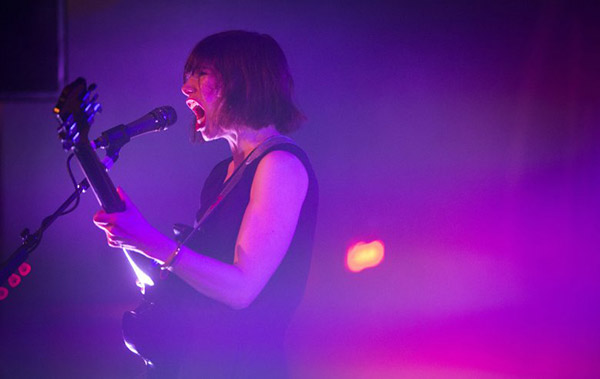 High fives: the best concerts of 2015, Seattle Times, by Seattle Times staff
Our music writers were all over the Northwest in 2015, from dive bars to dance clubs to international jazz festivals. Eight of them look back on the year and choose their favorite shows.
As usual, our music critics look back at the year's live concerts and list five they thought were tops. Also as usual, their lists reveal tastes that splay so wildly, from doom metal to roots rock to electronica to pop — and a music scene that is so marvelously diverse — that no single show turns up on two lists. (I was tempted to break this streak of incongruence by including Taylor Swift's wow-prompting pop bash at CenturyLink Field but, in the end, more age-appropriate genres won out.) As you can see from these lists, 2015 was a rich and wonderful year in music, and it looks like we're already headed into another one.
Paul de Barros, Seattle Times music desk editor
Charles R. Cross
The Replacements, Paramount Theatre: A messy, glorious, perhaps inebriated showcase of '80s hits (and nonhits) played, if not brilliantly, at least perfectly unbrilliant.
Elvis Costello, Paramount Theatre: Perhaps the best show Costello has ever played in Seattle, if only for the video of his father singing "If I Had a Hammer."
Dave Rawlings Machine, Neptune Theatre: Rawlings attempted to turn back the clock on music to sounds that were popular 80 years ago — and succeeded.
Patti Smith, Moore Theatre: Smith is always on fire in Seattle, but this night she was particularly pleased to be onstage in the town "of Hendrix," as she cried out.
Paul de Barros
Gilberto Gil, Meany Hall: The regal, silver-haired Brazilian singer-songwriter delivered a mesmerizing set that both revisited and subverted tradition.
Anat Cohen with the Seattle Repertory Jazz Orchestra, Kirkland Performance Center: Like shows with guests such as Quincy Jones and Clark Terry, the SRJO was lifted to a new level by this masterful, joyous Israeli reed player.
Chance the Rapper, Bumbershoot: Rapper, storyteller, social critic, stage designer, jazz head, singer — this 22-year-old Chicago phenomenon was dazzling.
Christine Jensen, Vancouver International Jazz Festival: With gorgeous, nature-inspired textures and complex compositional development, Jensen's big-band compositions alone would have justified a cross-border festival visit.
Jackson Browne, Chateau Ste. Michelle: A long, leisurely, lovely set by a past master, mixing pleasure with politics, baby-boomer-style.
Gillian G. Gaar
The Sonics, Moore Theatre: Back with a brand-new album, the Tacoma legends proved yet again you're never too old to rock 'n' roll.
Sleater-Kinney, Showbox: After a 10-year hiatus, Sleater-Kinney came roaring back, sounding as fierce and energetic as ever.
Barry Manilow, KeyArena: A hit-laden extravaganza from a master showman. Barry, we can't smile without you.
Brian Wilson, Benaroya Hall: No matter how many times you've heard them, there's nothing like hearing "God Only Knows" and "Good Vibrations" by the man who wrote them.
Various Artists, Chop Suey: This benefit for Hammerbox drummer James Atkins featured fine reunion performances by Hammerbox and the Gits, among others.
Andrew Gospe
Sufjan Stevens, Paramount Theatre: A bracing, cathartic performance of Stevens' most personal album, "Carrie & Lowell."
Oneohtrix Point Never, Neumos: What grunge might have sounded like in a parallel universe.
CFCF, Machine House Brewery: Blissful digital pop that reveled in its New Age influences.
Holly Herndon, Kremwerk: Space- and time-bending sound design with just enough dance floor momentum.
Ought, Sunset Tavern: The loquacious art-punk band is a smart, taut live act.
Andrew Matson
D'Angelo and the Vanguard, Showbox: The R&B legend broke his 14-year silence and came back like black Jesus.
The-Dream, Crocodile: A too-small space made this show by the author of some of modern pop/R&B's finest tunes feel rare. Best Supporting DJ: Seattle's Four Color Zack.
Girlpool, Capitol Hill Block Party: Young-yet-wise band on its first wave of success totally nailing a deceptively simple sound. What wasn't to love?
Ariana Grande, KeyArena: Commercial pop with plenty of Lolita angles to overthink, but which in the end was just supremely fun.
Canh Solo, Speckled & Drake: An incredible hip-hop DJ set by one of our town's best photographers. This multitalented artist is moving to Europe soon. Seattle's loss.
Gene Stout
Neil Young and Promise of the Real, WaMu Theater: Bursting with grit, passion and energy, Young clearly enjoyed playing with Willie Nelson's sons Lukas and Micah.
Florence + the Machine (Ghost of a Saber Tooth Tiger), KeyArena: A boisterous, beat-driven blend of rock, soul, pop and folk.
Allen Stone, Triple Door: The mood was joyous and celebratory as Seattle soul singer Allen Stone took fans on a retrospective journey of his career.
Bette Midler, KeyArena: Sassy, brassy, but not always classy, the veteran singer, dancer and comedian offered a megawatt performance.
Imagine Dragons, KeyArena: Despite arena-rock clichés — guitar and drum solos, overwrought ballads and pedal-to-the-metal anthems — lead singer Dan Reynolds was an earnest, engaging performer.

Owen R. Smith

Taylor Swift, CenturyLink Field: A dominating performance by the biggest pop star alive. If you weren't there, you wanted to be.
Eric Church, KeyArena: Mainstream country music doesn't get more authentic than Church's. The connection he has to his songs and his fans was palpable.
Brandi Carlile, Paramount Theatre: Carlile celebrated her critically acclaimed album "The Firewatcher's Daughter" with a two-night stand.
Kenny Chesney and Jason Aldean, CenturyLink Field: The pair of country superstars teamed up for a wild, boozy night. The perfect summer show.
Punch Brothers, Moore Theatre: Chris Thile's bluegrass pop outfit dazzled with precision picking in a tight, urgent set.
Charlie Zaillian
Yonatan Gat, Funhouse: The kind of guitar mastery that makes you conflicted about whether to stay up all night practicing or never pick up a guitar again.
Kowloon Walled City, Highline: A bleak, beautiful, fiercely dynamic set from this Bay Area four-piece.
Hum, El Corazon: An out-of-this-world reunion show from the celestially minded Chicago crew behind the Clinton-era classic "Stars."
Joel RL Phelps and Mint Mile, Sunset: A double-shot of instant-cult-classic rock from the latest projects of former members of beloved '90s Seattle expats Silkworm.
Shellac, Tractor: Steve Albini's shows double as music-nerd summits, and these two intimate nights found him and his minimalist trio as fun, funny and loud as ever.
Seattle Times staff