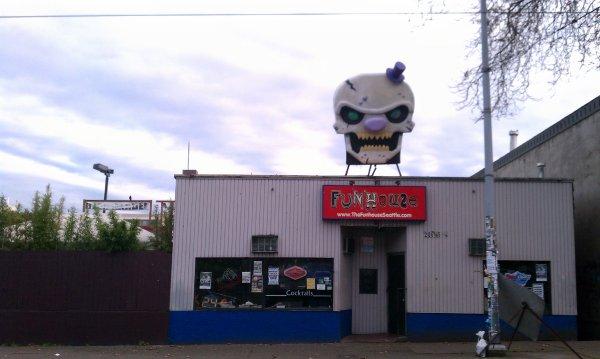 Punk-metal dive bar Funhouse to return, Seattle Post-Intelligencer, By Lynsi Burton
For all the punks and proud weirdos who have missed their home at Funhouse, the music venue will return to Seattle in April, this time in Eastlake.
Funhouse will join forces with another local music pillar, El Corazon, which previously bred Seattle's grunge scene as the Off Ramp and then turned into Graceland before morphing into its current iteration 10 years ago.
Funhouse, the dive bar previously located at Fifth Avenue North and John Street in Lower Queen Anne, housed touring and local punk and metal bands from 2003 to 2012 before being shut down to make way for – what else? – condos.
El Corazon owner Dana Sims made an agreement with Funhouse owners Brian Foss and Bobby Kuckelburg to turn the 200-person-capacity El Corazon Lounge into the new Funhouse. The lounge will be open 7 days a week adjacent to the 800-person-capacity main El Corazon venue, according to The Stranger.
Kuckelburg, who also owns the nearby Victory Lounge, announced the move on Twitter:
It's official, @FunhouseSeattle returns April 1 in @ElCorazonSEA lounge! Live music in Seattle thrives on #Eastlake! http://t.co/J2GZ4bPx2G

— The Victory Lounge (@VictoryLounge) March 10, 2015

Of course, Spike the Clown will preside over all the Funhouse festivities.
Funhouse and its closing was the subject of a recent documentary, "Razing the Bar," which screened at last year's Seattle International Film Festival.
"I've been a business owner in the Cascade neighborhood for the last 17 years," Kuckelburg said in a press release. "Every day we see Seattle change bit by bit and maybe it's not to our liking. With the three of us joining forces and by purchasing the building, the local music and bar scene can be assured there'll be a place for people to come together, to enjoy quality live music, and to collaborate and share ideas over a few pints for years to come."
The venue will host both all-ages and 21-and-over shows. Though the Funhouse bar opening is set for April 1, it's not yet clear when the first show will consecrate the venue.
Foss is a KEXP DJ and host of its Saturday Sonic Reducer show. Kuckelburg books shows at Capitol Hill's vegan bar and music venue The Highline.