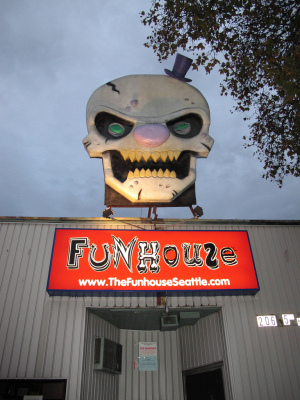 The Funhouse, a much-missed rock club, to reopen in April, The Seattle Times, By Paul de Barros
The Funhouse, a popular nightclub across the street from Seattle Center that closed in 2012, is reopening in a new location.
Operators Brian Foss and Bobby Kuckelburg have partnered with Dana Sims of El Corazon, another club on Eastlake, in South Lake Union, that specializes in hard rock and heavy metal.
The main room at El Corazon will retain its name and character, while the area currently known as the El Corazon Lounge will now be called the Funhouse, catering to local bands, alternative and punk.
The new venue debuts April 1 and will open earlier than El Corazon, for happy hour, seven days a week.
Foss and Sims will handle booking duties, while Kuckelburg (who also owns and manages the nearby Victory Lounge) will focus on bar and kitchen management. Other ownership/management duties will be shared.
El Corazon, known as the Off Ramp in the '90s, celebrated its 10th anniversary in February.
Paul de Barros: 206-464-3247; pdebarros@seattletimes.com; or follow him on Twitter @pdebarros