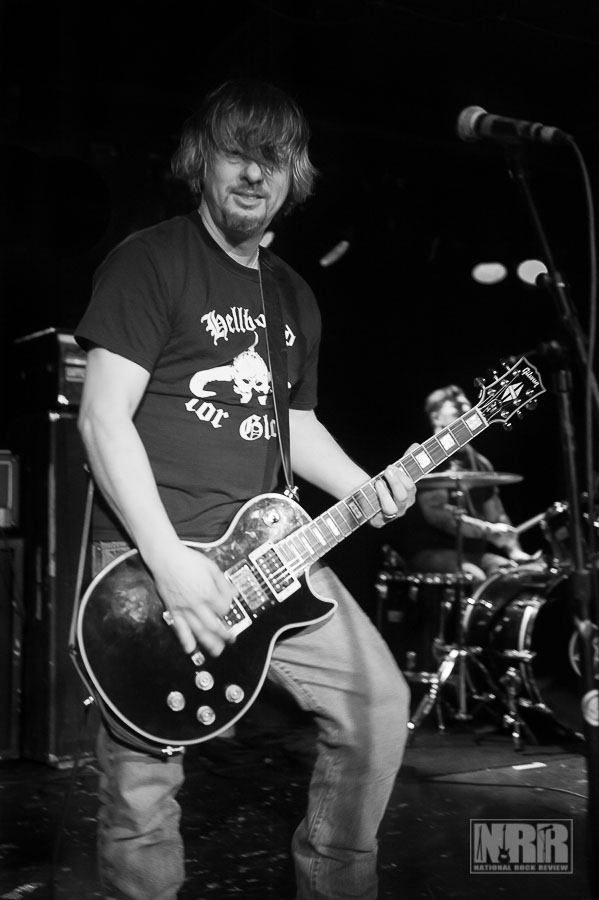 El Corazon's 10th Anniversary "Punk Rock Fury" show featuring Zeke in Seattle on 17-Jan-2015, National Rock Review, by William Riddle
El Corazon's "Punk Rock Fury" 10th Anniversary Show celebrates 10 Years of Punk Rock music with 10 Bands for 10 Bucks featuring Zeke.
El Corazón has been hosting punk rock, screamo, heavy metal, rock 'n roll concerts nearly every night for the past ten years. To celebrate, the venue put together a concert showcasing ten of the Pacific North West's premiere acts, featuring American hardcore punk band Zeke for the ten dollars. The ten bands played 30-minute sets on the two stages in the venue with each band's fans filling the room with excited anticipation. This was an incredible collection of amazing talent under one roof. I have been forever changed.
Kicking off the night were Seattle locals, The Triple Sixes, who announced that the set would be the band's last ever which is a big disappointment being their stage presence and sound were much bigger than the room they were in. With a pile of free swag on a bar table, the statement was true. For performing a final show, The Triple Sixes went out in style… explosively!
Next up on the main stage were The Stuntmen from Olympia, WA who got the room moving early in the evening with their great sound and highly energetic set. The Stuntmen are definitely a punk band you will want to see again and again.
13 Scars is a band you need to know. The five-piece punk band from Tacoma, WA. 13 Scars throws down delivering their hardcore style of punk rock with driving bass, drums, and ripping guitar rhythm and leads like no other. Stirring up mosh pits wherever they perform, they have a faithful following throughout the country and Pacific Northwest. Be sure to check out 13 Scars on the 20th of February at the Tonic Lounge in Portland, OR in support of Reagan Youth.
Dreadful Children hit the main stage putting on one hell of an energetic show. Hailing from Seattle WA, the four-piece has a traditional, yet upbeat, sound captivating those new to the genre and old school punker's alike.
Dreadful Children champion the unlikely equation of Iron Maiden–esque riffery and the Toy Dolls' sense of bouncy, infectious absurdity and somehow create a mad-scientist hybrid that totally kills.
Millhous, as they state in their Reverbnation bio, "… are Millhous. Seattle punk hardcore." Yes… that they are.
The Hollowpoints, according to their bio, "formed in 2001 by childhood friends Matt Mckinney and Ben Early, The Hollowpoints combine elements of punk and rock and roll reminiscent of The Clash, One Man army, and Swingin Utters. They have been pushing their hook based sing along's both domestically and abroad through constant touring, racking up ten releases in the past five years." The Hollowpoints, as witnessed by those in attendance, are a band that lives up to their reputation.
Neutralboy, originally from Bremerton WA, are a Punk band making a name for themselves. As they hit the stage, Neutral Boy spent no time bringing punk rock antics to life spraying beer on the audience from their mouth's and ripping up the stage with rocking beats and punk rock attitude. Formed in 1992 with the same three chords and some of the same songs they still play today, Neutralboy continues to please fans new and old.
The Derelicts formed in Seattle during the summer of 1987 during the early Seattle grunge days. While everyone was growing their hair and wearing love beads, The Derelicts held their punk ground, drinking and rocking down the house. They coined "punk fueled with alcohol and hate" that made way for the Supersuckers and the Fumes, and lest we forget the 90's punk masters and successor to the punk thrown, Zipgun. Their live shows are known for their unpredictable inner band violence on stage and driving rock force. They became the MRR reference point for late 80's punk. Critics and fans alike measure the power of punk rock by the standards they held high. Unfortunately, they did disband and occasionally play the one-off reunion show.
Up next was Toe Tag with a music lineage covering three and a half decades. The guys in Toe Tag have seen it all. The band has taken their style of blistering, energetic, and aggressive music to new levels. In a genre that begs for "harder, faster, louder," Toe Tag delivers and they do it like a kick in the teeth. So, sack up and prepare for the onslaught.
Wrapping up the night were the headliners, Zeke. The LA Weekly described as sounding like "the Dwarves if they snorted a tub of meth every day." Notably, Zeke has also been featured in several video game soundtracks with titles appearing on Tony Hawks project 2, 4 ,and 8 and also on Xbox 360's Project Gotham Racing soundtrack. Definitely a crowd pleaser, when Zeke hit the stage, everyone in the room added to the energy.