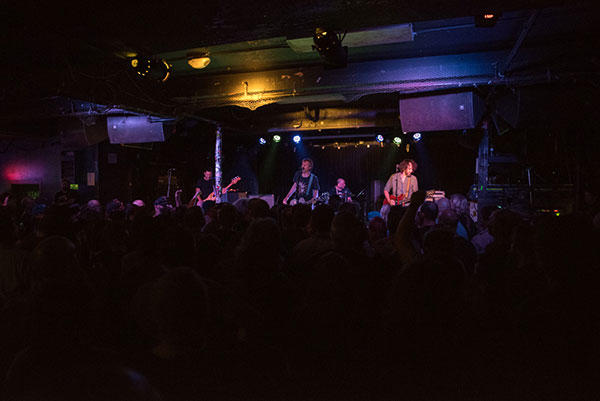 Mudhoney Helps Fight Cancer, Seattle Music Insider by Christine Mitchell
If you follow music in this town, you've probably heard about Eddie Spaghetti's (of the Supersuckers) fairly recent diagnosis of oropharynx cancer and consequent surgery to have a tumor removed from his neck this summer. He's had three surgeries, in fact, and has just finished up radiation therapy. Needless to say, Eddie's illness dealt a huge blow to the Supersuckers' financial situation, and especially the Spaghetti family.
Donate to Eddie Spaghetti's Cancer Fight!: through YouCaring or PayPal
Thankfully, fellow musicians and Supersuckers fans have rallied to raise funds to help pay for medical expenses and keep the family afloat. The "Benefit to Help Eddie Spaghetti Kick Cancer's Ass!" show held jointly at El Corazon and The Funhouse on October 10 was just one of several benefit concerts held around the country. Supporters came out in full force to donate and to take in a show that was heavy with music, loving in spirit, and full of crowdsurfing.
El Corazon was packed with a crowd that skewed in age toward those who were spry in grunge's heyday, but that didn't stop anyone from partying like they were in their twenties at RCKNDY. At least one person got punched in the face. The mosh pit in front of the stage was in full force, with dudes who would later be groaning about their joints, shoving each other like there was no tomorrow. One balding mosher hilariously and sweetly kept finding things that people had lost in the mosh pit. He would then mosh around with each object in the air, looking around for the respective owners of the items. It worked every time. At one point someone lost their glasses while moshing. You have never seen a mosh pit stop so quickly. The glasses survived.
Of course, there were plenty of reasons to lose oneself to the music. Piston Ready started things off at a roaring pace with vocalist Lauren Banshee living up to her name. Bassist Ocean Ford was particularly fun to watch as she swung her long dreadlocks around, looking like she could kick the snot out of half the room. The band's full-on hard rock was well received by the crowd.
The Derelicts were up next, and the room began to get crazy. The crowd-surfing began when lead singer Duane Bodenheimer spewed water across the stage and pretended to strangle himself with his mic cord, all the while spewing hardcore punk lyrics like some coked-up demon. Bodenheimer prowled back and forth across the stage. One would never guess that the band has been around since 1987 (they have links to Gas Huffer through Tom Price, whose latest project played next door at The Funhouse as part of the benefit). This crowd of Seattle music veterans knew it, though, and they reveled in it. The Derelicts may have never partaken of the grunge, but they are forever part of Seattle's music history.
It was obvious from the get-go that a large percentage of the crowd was frothing to see Zeke, a band that formed in the midst of Seattle's "Grungenado" in 1993 and has performed only sporadically in recent years, their last new music having been released in 2007. If The Derelicts ratcheted the vibe up several notches, things reached a full-on boil during Zeke's set. Blind Marky Felchtone's vocal might have registered on the Richter scale somewhere, it was such a blistering roar. The guitars were monumentally crushing, and drummer Donny Paycheck oftentimes looked like he was climaxing behind the skins. Paycheck emphatically and repeatedly gave the finger to the crowd in a sign of solidarity (the crowd was happy to pay it forward back to Paycheck). El Corazon's ambient temperature had skyrocketed by the time Zeke finished their cathartic performance. Charles Peterson, the photographer responsible for many iconic Sub Pop album covers, was spotted behind the stacks of amps thoroughly enjoying Zeke's set along with Mudhoney drummer Dan Peters.
Mudhoney took that high and rode it on out, crazily sounding rather polished and accessible following the soul-scouring performances of The Derelicts and Zeke. And that's saying something when it comes to the band that was the underdog's definition of an era. But it wasn't a bad thing at all; Seattle loves Mudhoney, and this night was no exception. Crowd surfer after crowd surfer undulated across the mosh pit as bassist Guy Maddison looked on with amusement. Mark Arm would pause to stare across the venue during his vocal pauses, just taking it all in, while lead guitarist Steve Turner seemed more introverted and interested in what sounds he was making with his instrument. Interestingly enough, the band played its cover of the Circle Jerks' "Behind the Door," which hadn't been done at a Mudhoney concert before. "Chardonnay" was attempted twice and then laughingly abandoned as Peters flubbed his part, leading to Mudhoney's latest favorite set closer "The Only Son of the Widow from Nain," a punk-tastic take on what it might be like to be the unnamed "other guy" that Jesus raised from the dead. Add in an encore with "Here Comes Sickness" and "In 'N' Out of Grace," and it was time for the oldsters to stumble on home and chew some ibuprofen, happy and fat with beer, pleased that they could help Eddie Spaghetti out. Get well, man.