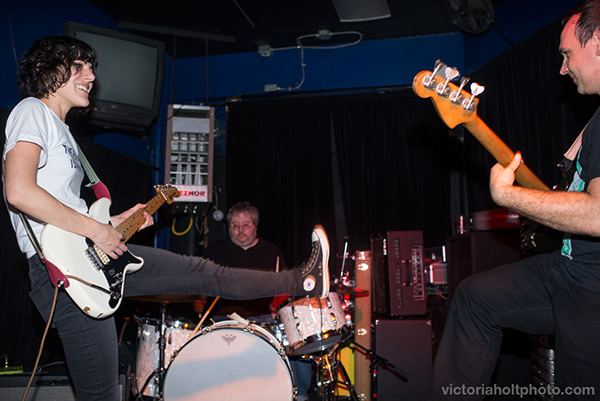 Wimps Celebrate Release of "Suitcase" at the Funhouse, Seattle Music Insider by Victoria Holt
"We've never done this before!" Wimps singer and guitarist Rachel Ratner exclaimed Friday night, as the cheeky band donned their instruments at the release party for their new album, Suitcase. "We're going to play the entire album, start to finish." It's their second full length to date, and their first release on Pacific Northwest label, Kill Rock Stars. The crowd was overjoyed. The Funhouse, which made its triumphant comeback in El Corazon's lounge this past spring, was packed to the gills with eager fans. Wimps played with sneaky smiles on their faces, bemused at their own hilarious lyrics, and thrilled at the crowd's enthusiasm. The local punk scene was resilient despite the day's tragic news, and crowd members jumped and shouted along, letting off steam in the humid room.
Some of the most fun tracks to hear live were "Dump," (a song about living in less than ideal situations to save money), "Dave's Babes," (a rolling, grooving beat with a fiery chorus), and "Old Guy," (a song about being the old guy at the party, forced to listen to juvenile inclinations while remembering one's own bad decisions). An unexpected surprise was the album's final track, "Basement." As Ratner glanced down at her setlist, she groaned, "This one's really weird. Like, really weird." It ended up being a long, off-kilter monotone track which builds slowly, layering blunt elements. A thudding progression of bass and guitar, barely a melody, stays constant as the drums switch to double time. It's as though the track morphs without moving; the rhythms increase, changing the pace while the larger structure stays consistent. The band laughed at themselves as they sang simple, drawn-out lyrics about being hot in the basement. Their self deprecating humor and genuine smiles always make them so endearing live. The song was indeed weird, but it was unique, and it will be interesting to see if they ever perform it again after Friday's full album setlist.
Openers Boyfriends rocked black lipstick and Orange Juice-esque guitar, channeling that Britpop danceable energy. Highlights included a song whose lyrics said "I thought we had plans," a possible homage to the local graffiti tag. They also covered David Bowie's "Queen Bitch," dancing around as fans sang along. Mom Butt played a few songs, but their set was cut short by an elusive capo. Not a soul could be found who had another, even in a room full of musicians. Friday the 13th jokes resounded as the bands faced technical difficulties, like Boyfriends' guitar cord repeatedly falling out, and the drummer's bass pedal failing. Stickers were next, and the night took a decidedly darker turn. Their heavy, cathartic, no wave, peppered with experimental saxophone, exorcised the audience of their demons. At times the band sounded like a blend of Joy Division and Sleater-Kinney, with all of the dark riffs of Bernard Sumner and Peter Hook, paired with the angst of Carrie Brownstein and Corin Tucker's vocals. Drummer Emily Denton literally chains herself to her set to keep it from sliding away from her, adding another layer of attitude to the experience. On a list of local bands to see live, they are a must.
Wimps' set ended with fan favorites "Nap," "Repeat," and "Stop Having Fun," and people lined up to buy merch, every one of them leaving with a shiny new album. Wimps' addition of Suitcase to the KRS lineup is a stellar moment in what is sure to be an explosive career.
Setlist:
Vampire
Dump
Couches
Dave's Babes
Suitcase
Middle Ages
Old Guy
Capitol Hill
Book People
Take it as it Comes
Modern Communication
Basement
Nap
Repeat
Stop Having Fun